NWA's annual show featuring exhibits by amateur and professional woodworkers.
March 23 & 24, 2024
10:00 am – 5:00 pm
Saratoga Springs City Center
Saratoga Springs, NY
Tickets
Available at the door, or purchase in advance online (TBA).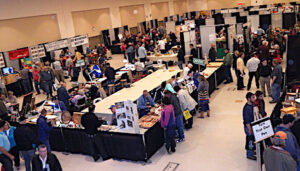 Show Your Work!
Register to exhibit your work in the Showcase Gallery:
• Online registration form (preferred) (TBA)
• Download, print, and mail a paper form (TBA)
• See the list of exhibit categories and this year's Woodworkers' Challenge (TBA)
Interested in Woodturning?
Our annual Woodturning Symposium is held during Showcase. The Symposium is presented by the Adirondack Woodturners Association. Learn more!
Presentations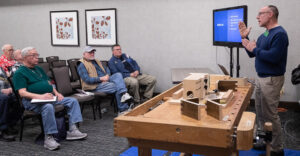 Lectures presented by nationally and regionally recognized professionals and amateurs. See the presenters
Toy Factory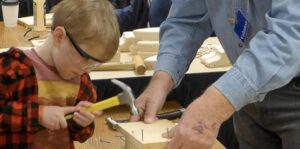 A workshop where kids can make a free toy and take it home with them!
Exhibits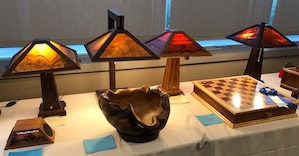 Hundreds of items, from all aspects of woodworking. Intricate items, carvings, turnings, furniture, sculpture, and more.
Showcase Store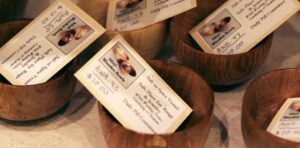 Buy unique woodcraft items from NWA members and the larger woodworking community.
Demos and Hands-on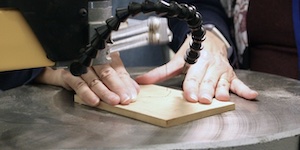 Woodturning, pen turning, carving, toy making and scroll sawing by local woodworking enthusiasts and clubs.
Winners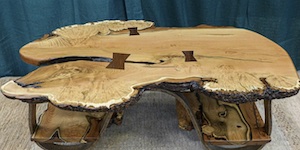 Exhibit items are judged each year. The best of the best are awarded in a variety of categories. See the winners.
Vendor List
List is updated as new vendors sign up, so please check back.
The list shown below is from our 2023 Show. When we begin signing vendors for 2024 this list will be removed and new vendors added.
Bad Dog Tools
Lyle Jamieson Woodturning LLC
WoodTurners Wonders
Nano Hone
Ridge Carbide Tool
Takeadip Antique Tools
LeafFilter Gutter Protection
Curtis Lumber Co., Inc.
BG Artforms


Tech Valley Center of Gravity
Stadtlander Woodcarvings, LLC
Hillview Wood & Metal, LLC.
Stainless Bottle Stoppers
Chips n knots Woodcarving
Digital Wood Carver
GARNY & Co.
American Association of Woodturners
Lakeshore Hardwoods


SawStop
Mullet Tools
SUIZAN
Urban Industrial Design
Adirondack Folk School, Inc.
Caning
The Macica Workshop
Halls Rustic Creations