Professional Demonstrators


Berry Gross
bio and photos to come…
Mauricio Kolenc
Mauricio is an award winning woodturner, currently in his third decade of turning and specializing in hand thread chasing. He likes making products that people use and touch – including parts for musical instruments, restoring antique furniture, chess sets, wooden bowls, boxes and artistic pieces. An environmentalist and vegan, his studio has 400 kinds of locally sourced wood and he doesn't use any animal derivatives like beeswax in his process. He is a former pro skateboarder, recently finished restoring his Mark II Escort, built his own fire-oven, grafts & grows rare fruit trees in his one-of-a-kind backyard, and enjoys making chutneys with guavas, ginger, jicama, pepper, vinegar and almonds. A vacation doesn't get any better than this!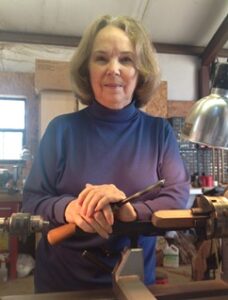 Janice Levi
My fascination with woodturning goes back to my childhood when my father would let me hold a turning tool to a piece of scrap wood mounted on his old Sears lathe. I held that fascination with me well through adulthood. Finally, in 2001, I announced to my husband that I wanted a lathe for my birthday. I immediately joined the local turning club, and like most new turners, I wanted to learn it all and do it all. So I turned bowls, platters, lidded boxes, ornaments with finials, hollow forms, good wood, punky wood, I turned it all. Then I began to decorate it. I carved, sand blasted, burned, pierced, painted and dyed.
But through it all, I loved the idea of combining art with the functional. But, I didn't just want to leave those beautiful wood pieces on a shelf. That is when I began to experiment with "wearable" art. I first began by making purses in several styles and through several iterations. I then added jewelry. I had seen lots of wooden disks hanging on leather straps, but I wanted to do something different. So I began to experiment. I turned hundreds of disks in varying sizes, beads in varying diameters, then began to hollow, burn, carve, pierce and paint them.
Through it all, I was enamored with the wood, whether it was beautifully quilted or spalted or filled with voids and bark inclusions. Someone else's scraps became my treasures—my art, and today, I'm wearing it.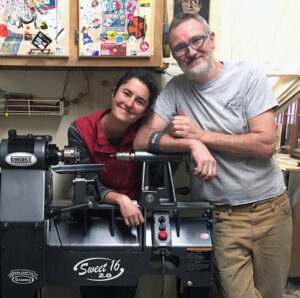 Graeme and Melissa Priddle
Graeme Priddle has over 30 years experience in the woodworking field, best known for his sculptural turnings/carvings reflecting his life and environments in Northland, New Zealand. He has won numerous awards for his work, which has been exhibited widely in New Zealand, UK, Japan, Taiwan, France, Germany, U.S.A and Canada.  
He is very active in the wood turning world and commits his time and talent to many creative endeavours.  He has served on the committee of the New Zealand National Association of Woodturners for five years as well as being instrumental in establishing the New Zealand 'CollaboratioNZ' Conferences in 1998.
And for the last 20 years has demonstrated and taught for numerous woodworking and woodturning groups and at many woodworking events throughout the world.
In 2015 Graeme took up permanent residence in Asheville NC to work with his partner and fellow wood sculptor Melissa Engler. Together they run Half Feral Studio at Grovewood Village and are currently building their own school on land they purchased in Mars Hill, about 30 minutes North of Asheville.
"I have always felt a natural affinity with wood and after twelve years working as radio technician I felt the need to do something more creative with my life. Originally I was drawn towards 'free-form' furniture as our bush block is littered with deadfall timber, the leftovers from the Kauri logging days of the early 1900′s. In 1990, the New Zealand economy became very depressed there was a limited market for original hand-crafted furniture. Fortunately, at that time I met a group of very creative woodturners and realized that there are endless creative possibilities to lathe work.
I am mainly self taught with a lot of advice and inspiration from many other woodturners. In my first four years or so of turning the emphasis was on using very decorative timber and applying simple form so as not to overshadow the natural beauty of the timber. While this is still a dominant factor in some of my work I now spend more time on creating pieces where my design is the dominant factor and using timber and other materials sympathetic with my designs, these pieces tell stories about who I am, where I am and the things in life that I am most passionate about.
Major influences in my designs come from my natural surroundings, especially the sea and coastal environments, dreams and life experiences."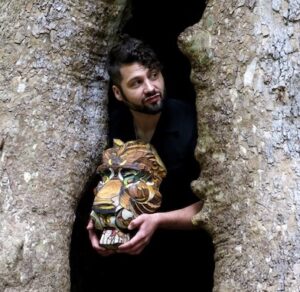 Derek Weidman
Derek Weidman is a woodturner and wood sculptor who lives in rural Green Lane, Pennsylvania. He participates in exhibits and publications across the country. He received many awards including the AAW Symposium Emerging Artist and the Professional Outreach Committee Collegiate Award from the American Association of Woodturners. Weidman's work is in numerous permanent collections including the Fuller Craft Museum and the Peabody Essex Museum. His approach involves multi-axis turning as the foundation of his work. As an avid animal lover with deep connections to nature, Weidman volunteers as a wildlife rehabber, gaining an enormous amount of inspiration from working so closely with local fauna.