Presenters for Showcase 2023
Garrett Hack | Andrew Hunter | Scott Oliver
more presenters TBA…

Garrett Hack
Garrett Hack is an internationally known furniture maker, educator, writer and farmer from Thetford, Vermont. A furniture maker for almost 50 years, he has created his own style with designs that continually push his skills to the next level. He's also an in-demand woodworking instructor teaching classes throughout the world and author of two books about hand tools — The Handplane Book and Classic Handtools.
Presentations:
Practical Design
Design is by far the hardest part of building elegant furniture. One way to step up your design skills is to look at lots of good furniture, to understand how the maker used his materials, created interesting details and solved the basic challenges of construction and wood movement. Imagine this as a visit to a museum rich with inspiration and practical design ideas.
Dynamic Details
Details can work for you, adding some dazzle, resolving transitions, softening edges and drawing attention to some aspect of a design. An array of practical details will be demonstrated from simple edge chamfers that catch the light, fine inlaid lines, beads that highlight edges and cutting and using shimmering shell.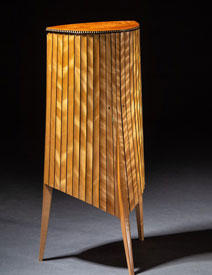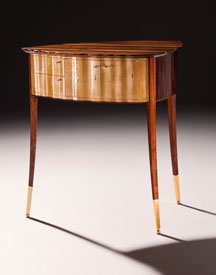 __________________________________
Andrew Hunter
Andrew is a custom furniture maker working and living in New York's Hudson Valley. Best known for his use of traditional Japanese hand tools, Andrew demonstrates and teaches across the United States.
As a self-taught woodworker he offers a unique perspective to other Americans exploring Eastern woodworking. His workshops demonstrate that by understanding the fundamental principles behind other cultures' tools and techniques all woodworkers can benefit. A frequent contributor to Fine Woodworking magazine, he is eager to share what he has learned in his 25 years of making furniture.
Presentations:
Japanese joinery
In this demonstration professional furniture maker and educator Andrew Hunter will introduce the class to the world of Japanese joinery. Using a kanawa tsugi, a lapping scarf joint, as an example Andrew will demonstrate methods for laying out and cutting complicated joinery with hand tools. Centerline layout, methods for efficiently removing material and tips for a perfect fit will all be covered in detail.  Join Andrew and add another dimension to your woodworking.  
Eastern influence in a western shop
The wood work of Andrew Hunter has many influences. Many of his techniques and designs have a strong Eastern leaning.  Most of his hand tools are Japanese and much of his inspiration for furniture construction stems from classical Chinese furniture pieces. At the same time, raised as a New Englander, Andrew also loves the simple pine furniture of the Early American tradition, including Shaker furniture.  In this presentation Andrew will discuss how all these influences come together in his own shop and work.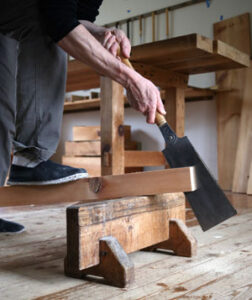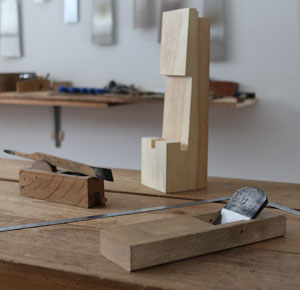 __________________________________
Scott Oliver
Scott Oliver started his craft journey as a blacksmith working with metal for over 13 years. While getting his M.F.A. in metals at The Rochester Institute of Technology – School of American Crafts, he discovered the joys of working wood with hand tools as well as machines. During the pandemic he further researched and practiced these techniques and inspired by Curtis Buchanan and Drew Langsner, built himself a shave horse to dive deeper into drawknife and shave horse techniques.
Having moved to the Albany area in March 2020, Scott works for NYSERDA helping bring energy efficiency and climate change solutions to low income New Yorkers.
He is a frequent demonstrator in the N.W.A. Hand Tools S.I.G. where he shares his lifelong love of teaching.
Presentation:
Getting the Most out of Drawknives and Spokeshaves
Drawknives are seen by many as just a tool to debark wood and spokeshaves end up sitting on most people's shelves, but these tools have an immense range to shape and finish wood. Using a shave horse and a bench, Scott will demonstrate how these tools can shape chair legs without a lathe, smooth curves for a Windsor chair seat, and perform lots of tasks quickly while producing a finish that adds warmth and beauty to your work.
__________________________________

presenter
info to come
l
__________________________________

presenter
info to come
____________________________________

presenter
info to come
_____________________________________

presenter
info to come
__________________________________

presenter
info to come