2019 Featured Presenters were: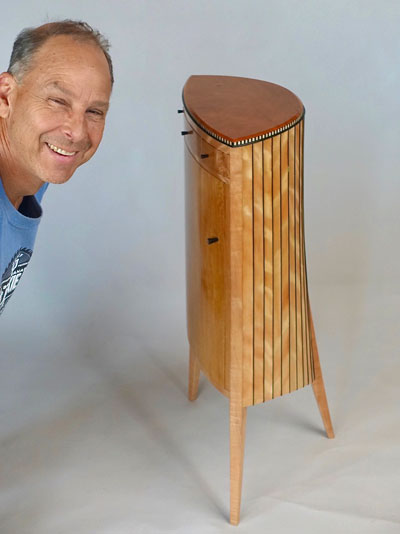 Garrett Hack

5 Essential Hand Plane Techniques
Hand planes are highly efficient, accurate, and for some work superior to machines. We'll do some edge jointing, smoothing, fine true the shoulders of a joint, and a few other techniques that will persuade you to get out your hand planes and use them.
Dazzling Details 
Details can be fun and add interest, but they are also practical — softening an edge or lightening the visual weight of a part. Garrett will demonstrate some of his favorite dazzling details, from fine inlaid lines to beads and proud cockbeads, and a little about using shell and metals.
Biography
Garrett Hack is an internationally known furniture  maker, educator, writer, and farmer from Thetford, Vermont. A furniture maker for more than 40 years, he has created his own aesthetic with designs that continually push his skills to the next level. He's also an in-demand woodworking instructor, teaching classes in Germany, England, Austria, Italy, Spain, Canada, Australia, Israel, and Japan, as well as throughout the US.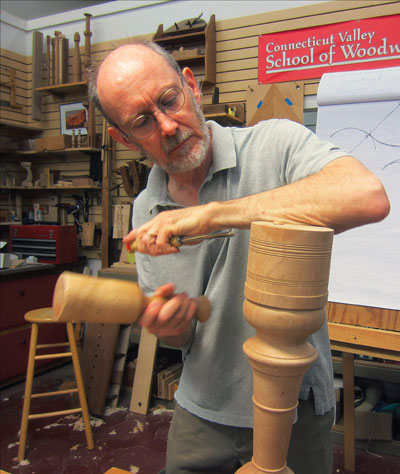 Will Neptune

Ball and Claw Feet: a systematic approach to carving three regional variants
Ball and claw feet are a common 18th century furniture embellishment with distinct regional forms. Their sculptural effect disguises the efficient, step by step process used to form them. This demonstration will present a Philadelphia style foot, from pattern development to carving each separate detail. Then New York and Boston variants will be demonstrated to show how each differs from the basic foot.
Dovetailed drawer dividers: half-tails, full tails, stepped tails and dovetails with cock-beading.
Once you know how to dovetail boxes for case work and drawers, you need dividers and partitions to frame the openings in the case. This demonstration will present four variations of dovetailed dividers, which combine through dadoes with dovetails at the front edge. This traditional solution gives the maker a strong and efficiency approach, whether you rely on hand tools or machine work.
Biography
Will Neptune trained at The North Bennet Street School and later worked there as an instructor for fifteen years. He has written several articles for Fine Woodworking Magazine, teaches classes at The Connecticut Valley School of Woodworking, and lectures at museums and Society of American Period Furniture Makers conferences. He works in his shop near Boston on commission work, architectural carving sub-contract jobs and period carving restoration projects.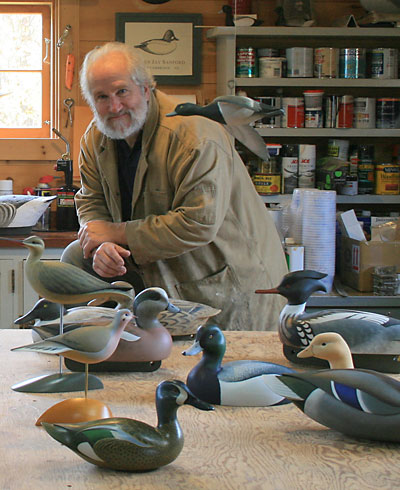 Steven Sanford
Celebrating Birds with Brush & Knife
Steve Sanford is an artist, woodworker and boat builder who lives on a South Cambridge farm in Washington County. Using Powerpoint, he will give an overview of his creative interests. He will follow that with a brief demonstration of how he approaches carving decorative birds and hunting decoys.
Designing, Building and Restoring Duckboats
Steve Sanford is an artist, woodworker and boatbuilder who lives on a South Cambridge farm in Washington County. Using Powerpoint, he will give an overview of his work with boats – mostly small vessels designed for hunting waterfowl. From his minimalist "gunning coffin" – which has been built by hundreds of hunters across the country from his plans first published in 1982 – to a pilothouse for a 25-foot "mothership" – he will describe how he designs and then constructs or restores a wide variety of boats. He will bring along his 13-foot Sweet Gherkin – a one-man decked-over canoe – to illustrate some of his approaches.
Biography
Steve grew up on the south shore of Long Island and learned to hunt, dig clams and sail on Great South Bay in numerous small craft. His lifelong interest in birds led him to a 35-year career in wildlife conservation but is also woven through much of his art: drawing, painting, carving and even his boat building. Steve has won numerous awards for his carving and his boat building. You can learn about his work at his website: www.stevenjaysanford.com