Showcase 2020 & 2021 have been cancelled due to Covid-19.
Here are the Presenters that were to attend in 2020.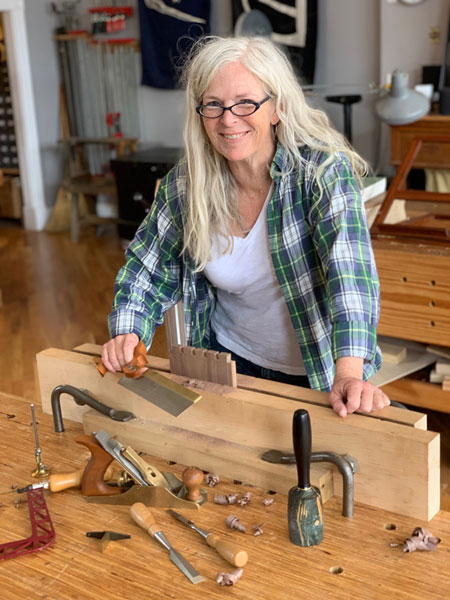 Megan Fitzpatrick
Megan Fitzpatrick is publisher and editor for Rude Mechanicals Press. She's been an avid hand-tool woodworker for more than a decade, and helped others learn hand-tool woodworking in classes at Lie-Nielsen Toolworks and the Marc Adams School of Woodworking. She's also assisted Chris Schwarz, Lost Art Press in numerous tool chest classes.
She lives in Cincinnati, Ohio, with 2.75 cats, and is currently restoring a 1906 four-square…for which she admits to sometimes using powered tools. Though her formal education is in English literature with a concentration on early modern drama, she promises to keep the Shakespeare references to a minimum.
Megan's Lectures:
Beads and beading planes. Learn about the history of beads, and how, why and where you might choose to employ them in furniture.
Four (or more) ways to cut rabbets and dados by hand. There's always more than one way to skin a rabbet (and dado) learn four hand-tool methods, from (almost) foolproof to fast.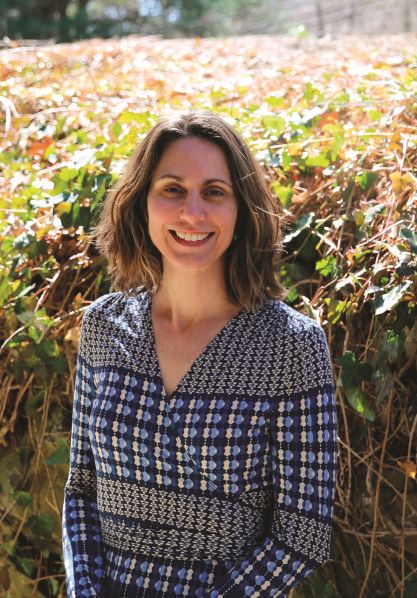 Anissa Kapsales
A childhood watching her patient and meticulous father making things from wood, the purchase of a massive fixer-upper home when she was 21, a woodworking apprenticeship, and a decision to study at College of the Redwoods (now The Krenov School)—these things and more led Anissa Kapsales to her career as a Fine Woodworking associate editor. Since 2006 the job's blend of people and woodworking has appealed to this mother of two: "I get to meet authors, watch them work, peek into their lives, learn tons of fascinating things from them," she says. "Wood is an amazing material, predictable and wild at the same time. I love the way it smells when it's being cut, the way it looks, the way it feels to work with it. And there is nothing better than being in that zone in the shop, when everything is working the way it should and feels right, and you just don't want to stop." When she's not hanging out with her kids, in the shop, or at the office you can find Kapsales hiking in the Hudson Valley and beyond.
Anissa's Lectures:
The Inside Scoop on Fine Woodworking magazine:
A history of, from issue #1 through the present. How it began, how it's changed, why it endures, and how much impact it has had. How things work inside the magazine and a question and answer period.
Miters of All Kinds:
From solid wood to plywood and from picture frames to carcasses. How to cut them, when and how to reinforce them, and how to clamp them.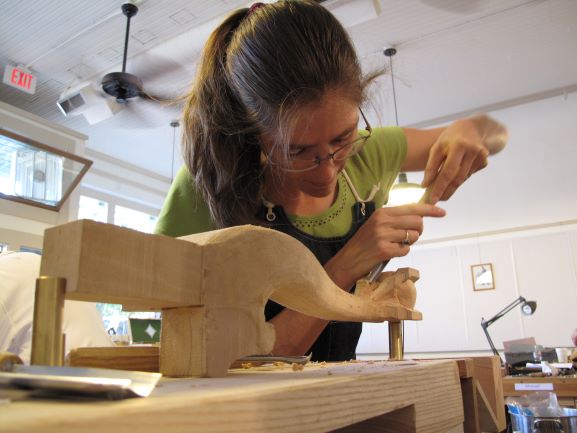 Mary May
Mary May is a self-employed woodcarver in Charleston, SC, with more than 27 years of professional experience in carving architectural ornament, custom furniture, and sculpture. She originally studied with master woodcarver Konstantinos Papadakis in Minneapolis, and later furthered her skills in England, Greece, and Malaysia. Mary has been a featured guest on the PBS series "The Woodwright's Shop" four times and teaches woodcarving classes throughout the U.S. and in Europe. She has an online video school with over 400 instructional videos, has written a variety of woodcarving articles for national publications, and is the author of Carving the Acanthus Leaf (Lost Art Press, 2018). Mary's website is marymaycarving.com
Mary's Lectures:
Hand Carving Architectural Molding:
Mary May will show:
the process of how to lay out designs on a pre-shaped molding,
how to carve very simple molding (beads and rope) to more complex designs (egg and dart, and acanthus leaf),
how to make the most efficient carving cuts, and
how to not lose your mind when you have hundreds of feel of molding to carve.
Mary will share lots of tips and tricks and secrets that architectural carvers have been using for centuries.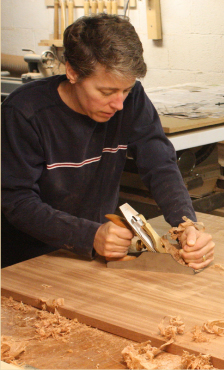 Sharon Mehrman
Sharon C. Mehrman owns and operates a one-woman workshop in Florence, Massachusetts where she designs and builds heirloom quality furniture, architectural built-ins, and historic reproductions. Her work has been juried into nationally recognized museum exhibitions and craft shows. With a Master's of Design and a Graduate Certificate in Public History, Sharon brings over 30 years' practical experience as a designer and woodworker to her work as an historian of material culture (historic artifacts), historic woodworking trades, tools, and technology. She teaches woodworking and furniture making, including the Master Furniture Program, at Hill Institute in Florence, MA.
Sharon's Lectures:
Insights on a Masterwork
Sharon will discuss her design process and the strategies that she used to create her masterwork, The Thread Chest, an art nouveau inspired furniture piece commissioned by a private collector. Her presentation will be followed by a demonstration of how she carved the onlays for this piece that won the Grand Prize of the 2015 Popular Woodworking Magazine Woodworking Excellence Awards.
Making a Replica of a Hadley Chest
Making historic reproductions is a painstaking process, especially when the work needs to be museum quality. Sharon will present her process for creating a scaled-down replica of the Sarah Strong Chest, a Hadley-type chest made between 1680 and 1720, for Historic Northampton in Northampton, Massachusetts. She will show how the smallest details on one of the chest's carved panels, provide evidence of the maker's layout process. After illustrating the layout, she will demonstrate how the panel was carved.