Showcase Presenters for 2024 to come.
The presenters for 2023 are shown below. Presenters for 2024 will be added at the end of 2023.

Stanley Blanchard
Stanley earned an MFA in Photography from Ohio University and then worked at General Electric as a photographer for 18 years. Upon leaving GE he began a photography business which lasted 22 years. After retiring from the business he began turning in 2010 and went on to take classes from David Ellsworth, Johannas Michaelson and Al Stirt.
Presentation:
Turning a Peppermill
Stan will demonstrate how he makes peppermills starting with a sketch of a peppermill, moving to a storyboard and then turning the rough blank into a finished product. The turning tools used will be a spindle roughing gouge, spindle gouge, skew, parting tool and a Jacob's chuck with various Forstner bits. He will emphasize customizing the peppermill blank to your specifications. Thus, you are not restricting the peppermill to the sizes available in a peppermill kit. The key to customizing a peppermill is cutting and threading the driveshaft. Once that is mastered then a peppermill can become a design of one's choice.
__________________________________

Mike Bloomquist
Mike Bloomquist began carving in 1985 making fishing lures from shelving lumber.  Later, in 1994, he attended a woodcarving show sponsored by the Mohawk Valley Art and Woodcarving Association. Inspired by the variety and level of talent at that show, woodcarving reached "addiction" level for him that year and now serves as an excellent example of a hobby gone horribly out of control.
While Mike started out in the Scandinavian Flat Plane style of woodcarving, his skills now encompass several forms including wildlife, folk art, fantasy, in-the-round and relief. His pieces have been 'adopted' for collections in Canada, England, Germany, Iceland, and across the United States. He began teaching and demonstrating woodcarving in 1995 and presently teaches at the "North East  Woodcarvers' Roundup" (since 2002) and is an eight year veteran of the New England Woodcarvers' Retreat.
He began writing for the MVAWA newsletter and the Woodcarvers' Online Magazine.  He has three articles with Carving magazine and recently had his third article published in Wood Carving Illustrated.  His latest book "Carving a Cross Country Santa" was just released by Fox-Chapel Publishing. For more info, visit his website at www.woodendreamz.com  and/or his Facebook page.
Presentation:
Woodcarving for the Artistically Challenged
I teach woodcarving. This is for all those folks who see my carvings and those of my friends who immediately say, "I could never do that, I have no artistic talent". We will discuss how to start this positive addiction with a single knife and some supporting equipment. Several safe, bloodless (mostly) techniques for shaping wood with an edged hand tool will demonstrated as well as how to keep those edges sharp. Several beginner projects will be discussed and how to recognize why they make good beginner projects. For those of you who are already woodcarvers and find yourself in teaching situations or are flirting with the idea of teaching others, there should be some useful tips in here as well. I will be happy to answer questions at either end of the teaching process.
__________________________________

Garrett Hack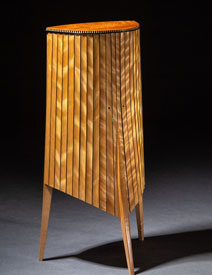 Garrett Hack is an internationally known furniture maker, educator, writer and farmer from Thetford, Vermont. A furniture maker for almost 50 years, he has created his own style with designs that continually push his skills to the next level. He's also an in-demand woodworking instructor teaching classes throughout the world and author of two books about hand tools — The Handplane Book and Classic Handtools.
Presentations:
Practical Design
Design is by far the hardest part of building elegant furniture. One way to step up your design skills is to look at lots of good furniture, to understand how the maker used his materials, created interesting details and solved the basic challenges of construction and wood movement. Imagine this as a visit to a museum rich with inspiration and practical design ideas.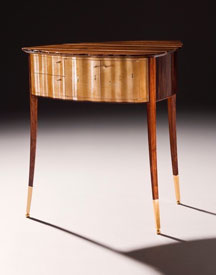 Dynamic Details
Details can work for you, adding some dazzle, resolving transitions, softening edges and drawing attention to some aspect of a design. An array of practical details will be demonstrated from simple edge chamfers that catch the light, fine inlaid lines, beads that highlight edges and cutting and using shimmering shell.
__________________________________
Andrew Hunter
Andrew is a custom furniture maker working and living in New York's Hudson Valley. Best known for his use of traditional Japanese hand tools, Andrew demonstrates and teaches across the United States.
As a self-taught woodworker he offers a unique perspective to other Americans exploring Eastern woodworking. His workshops demonstrate that by understanding the fundamental principles behind other cultures' tools and techniques all woodworkers can benefit. A frequent contributor to Fine Woodworking magazine, he is eager to share what he has learned in his 25 years of making furniture.
Presentations:
Japanese joinery
In this demonstration professional furniture maker and educator Andrew Hunter will introduce the class to the world of Japanese joinery. Using a kanawa tsugi, a lapping scarf joint, as an example Andrew will demonstrate methods for laying out and cutting complicated joinery with hand tools. Centerline layout, methods for efficiently removing material and tips for a perfect fit will all be covered in detail.  Join Andrew and add another dimension to your woodworking.
Eastern influence in a western shop
The wood work of Andrew Hunter has many influences. Many of his techniques and designs have a strong Eastern leaning.  Most of his hand tools are Japanese and much of his inspiration for furniture construction stems from classical Chinese furniture pieces. At the same time, raised as a New Englander, Andrew also loves the simple pine furniture of the Early American tradition, including Shaker furniture.  In this presentation Andrew will discuss how all these influences come together in his own shop and work.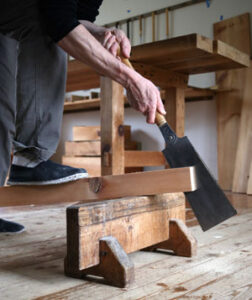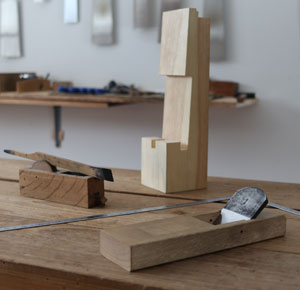 __________________________________
Harold Kaltenbach
a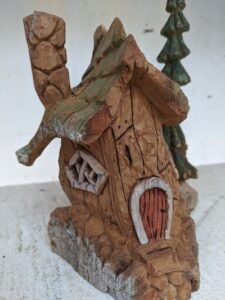 Harold lives in Westmoreland NY, and has been carving for 25 years. He has been teaching carving techniques for the past 20 years. His favorite type of carving is whimsical houses and buildings which have amazing details.
Presentation:
Set Up Raw Tree Bark for Carving a Bark House
Harold will be discussing the process of setting up to create cotton wood bark houses. He will discuss the steps to go from raw bark to a blank for a single house, double piece house or a multi piece house and the prep attaching pieces together to form the house.
__________________________________

Kuniaki Kishi
Kuniaki Kishi is the owner of Acroge Furniture in Tokyo, Japan. Before he opened his furniture making workshop, he traveled to 20 countries over a 3-year period to learn different cultures and approaches to woodworking. Acroge Furniture specializes in custom designs that utilize knowledge acquired from his trips and produces high quality furniture using both traditional Japanese and western techniques. He is a certified Class 1 Furniture Production Master Craftsman. He opened his woodworking school 15 years ago and has taught Japanese and foreign (including the US) woodworking lovers, both professionals and amateurs over the years. His popular school currently has over 300 students.
Presentations:
Four Practical Japanese Joineries for Furniture (Part I and II)
While many western woodworkers find Japanese joineries intriguing, they consider the joints too complex to adopt for their furniture projects. Many of the joints found online are in fact used in constructing or repairing temple and shrine structures and not practical for furniture. Mr. Kishi will introduce four joints that are commonly found in traditional Japanese furniture that you can incorporate into your own furniture design.
Part I – Concealed Dovetail Joint (tomegata kakusi aritsugi), Twin Mortise and Tenon with Sword Tip Joint (kenndome nimai hozo)
Part II – Tenoning Dovetail Joint (oiire aritsugi), Miter Joint with Dowels (ootome dabo)
NWA thanks Suizan, the best Japanese hand saw brand, for sponsoring Mr. Kishi's presentation.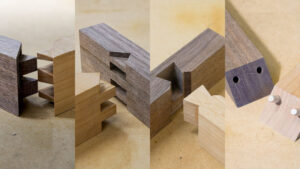 _____________________________

Eric Marczak
Eric is presently enjoying crafting classical guitars and flutes at his Helderberg mountain shop; as well as performing. He is almost self taught, "had it not been for the experts, fellow NWA members, and students who asked questions I couldn't answer". He joined the NWA in 1993 and was inspired to take it to the next level, becoming familiar with a variety of disciplines. He's been an educator for the NWA, The Adirondack Folk School, The Arts Center of the Capital District, HVCC, the former Latham Woodcraft store, and several Native American communities. Eric's work is regularly on display at Showcase. His reverence for Asian woodworking tools and skills are evident in the ongoing work at the Grafton Peace Pagoda.
      "Much to learn, much to learn" …Mylan Fiske
Presentation:
Finishing to Enhance Your Wood Projects
Over the years, many woodworkers have expressed an inability to obtain a finish commensurate with their woodworking skills. Understandably, it is complicated and there's a lot of room for error. Furthermore, the wood coating industry was worth 9.25 billion dollars in 2022. That's a lot of products to sort through.
It's essential that any discussion about finishing include surface preparation, fillers, glues, solvents, safety and more importantly, what not to do. We will explore the many parameters needed in order to make the best choices to enhance and beautify your valuable woodworking projects.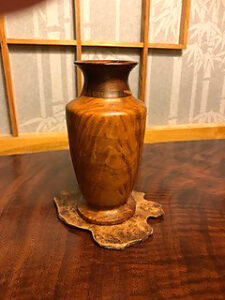 __________________________________
Scott Oliver
Scott Oliver started his craft journey as a blacksmith working with metal for over 13 years. While getting his M.F.A. in metals at The Rochester Institute of Technology – School of American Crafts, he discovered the joys of working wood with hand tools as well as machines. During the pandemic he further researched and practiced these techniques and inspired by Curtis Buchanan and Drew Langsner, built himself a shave horse to dive deeper into drawknife and shave horse techniques.
Having moved to the Albany area in March 2020, Scott works for NYSERDA helping bring energy efficiency and climate change solutions to low income New Yorkers.
He is a frequent demonstrator in the N.W.A. Hand Tools S.I.G. where he shares his lifelong love of teaching.
Presentation:
Getting the Most out of Drawknives and Spokeshaves
Drawknives are seen by many as just a tool to debark wood and spokeshaves end up sitting on most people's shelves, but these tools have an immense range to shape and finish wood. Using a shave horse and a bench, Scott will demonstrate how these tools can shape chair legs without a lathe, smooth curves for a Windsor chair seat, and perform lots of tasks quickly while producing a finish that adds warmth and beauty to your work.
__________________________________
Dave Parkis
Dave Parkis joined NWA in 2009 and took a class making a cabinet using only hand tools. That class sparked his love of hand tools and he quickly went from making furniture to buying, selling and repairing hand planes and other woodworking tools.
Presentation:
Hand Plane Rehabilitation
This session will discuss various methods of rust removal, frog seating, flattening the sole and other aspect of bringing an old plane back into serviceable condition. Dave doesn't restore planes, that is, bring them back to original condition. Rather, he focuses on getting the tool to the condition where it will perform as it should.
__________________________________

Paul Ruud
Paul Ruud started woodworking in the seventh grade in a program required of all boys attending public schools in London, Ontario. For many years after graduating high school his woodworking was occasional. But the last decade has afforded more intensity and he has focused on building furniture. Paul is particularly interested in joinery. He joined the NWA in 2019 and now serves as its treasurer.
Presentation:
The Ruud Complement Jig
Paul will explain his jig for box/finger joints cut on a table saw. The jig addresses limitations of the familiar index-pin box-joint jig. The spacing on these jigs is fixed so that the fingers often end up uneven across a box face.
Paul's jig also has two additional capabilities: any finger spacing is allowed and joints can be copied. The key feature of the jig is that it cuts a copy or a complement from a template that can be one of the joint members. The jig addresses the need for accuracy to a few thousandths of an inch using a table saw and plywood construction.
____________________________________

Steve Schoenberg
Steve Schoenberg has been an NWA member for over twenty years and is a founding member of the NWA Crafters. Steve has had the privilege of with working with some of the NWA's most experienced toy makers over the years. Now a grandfather with three young grandkids, he focuses on making toys that are fun to play with and that may become family heirlooms.
Presentation:
Toy Making Tips
This presentation will explore some different types of toys and how to create toys that are functional and durable as well as beautiful woodcraft. Toy making is a bit different than other woodworking pursuits with some special considerations. Tips for making your toys better and ways to save time and better utilize your wood will be shared. This session will be oriented towards beginner and intermediate woodworkers.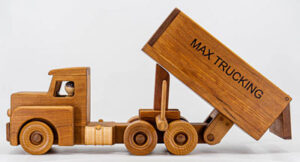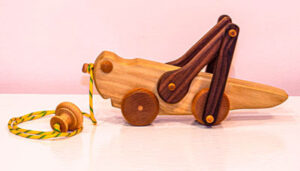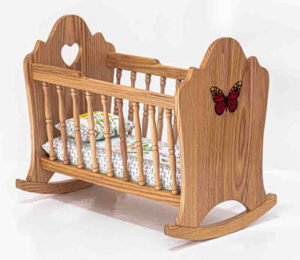 ____________________________________

Juliana Shei
Juliana started woodworking during her retirement and is primarily self-taught. During a family trip to Japan she had the opportunity to learn from Master Kishi, developing a deep appreciation and love for the craftsmanship involved in Japanese woodworking. Her most recent projects have focused on creating kumiko—traditional Japanese woodworking decorations composed of small pieces of wood, held together without the use of glue or nails.
Presentation:
Kumiko, Japanese Partition Art
Kumiko is believed to have originated about 800 years ago in Japan as part of the decoration for partitions in Japanese houses.  In this presentation Juliana will give an overview of the history and evolution of kumiko as an art, as well as demonstrating how some of the most popular kumiko patterns are made using the unique versatile jigs she developed.