Presenters for Showcase 2022
Bob Behnke | Mike Bloomquist | Harold Kaltenbach
Yuri Kobayashi | Jim Larin | David G. Powell | Ray Puffer

Bob Behnke
Bob Behnke is Franklin International's Technical Service Manager. Bob is responsible for handling all technical aspects of the Titebond-branded product line of wood glues, construction adhesives, wood flooring adhesives, and sealants. He is presenting three topics that would give valuable tips for every woodworker.
5-Steps of Gluing: Bob will discuss the five steps for successful gluing, from dry assembly to waiting for the glue to dry, with a focus on the steps needed to use wood glues with ease, what to watch out for when the glue hits the wood and why failures occur. He will also cover frequently asked questions and why there are so many different wood glues.
Facts and Fiction from the Internet: As Abe Lincoln once said, "You can't believe everything you see on the Internet." Online influencers and video makers are sincere in their desire to teach woodworking, but some get it right, and some… well, not so much. In this session, Bob right-sizes the online obsession with glue strength and explains why some joints fail and the best glue choice for any task. Along the way, you will pick up some tips and tricks to make gluing less stressful and find some unique uses for wood glues you may not have known about.
Wood Science Presentation: Many factors go in to a successful woodworking project.  Knowing your basic substrate – WOOD – will help you choose the best pieces to use for your assembly. This knowledge will help you become better at creating works of art that will last for generations.
Bring your gluing questions for discussion as this is not just a presentation!
__________________________________
Mike Bloomquist
Mike Bloomquist began carving in 1985 making fishing lures from shelving lumber. Later, in 1994, he attended a woodcarving show sponsored by the Mohawk Valley Art and Woodcarving Assoc. Inspired by the variety and level of talent at that show, woodcarving reached "addiction" level for him that year and now serves as an excellent example of a hobby gone horribly out of control. While Mike started out in the Scandinavian Flat Plane style of woodcarving, his skills now encompass several forms including wildlife, folk art, fantasy, in-the-round, and relief. His pieces have been 'adopted' for collections in Canada, England, Germany, Iceland, and across the United States. He began teaching and demonstrating woodcarving in '95, and presently teaches at the "North East Woodcarvers' Roundup" (since 2002) and is a eight-year veteran of the New England Woodcarvers' Retreat. He began writing for the MVAWA newsletter and the "Woodcarvers' Online Magazine". He has three articles with "Carving" magazine and recently had his third article published in "Wood Carving Illustrated". For more info, visit his website at www.woodendreamz.com and/or his Face Book page.
Class:
Flat Plane Woodcarving – Magic with a Knife
Come discover just how much fun you can have with just a sharp knife, a leather strop, a carving glove, and a block of wood. Minimalistic woodcarving that's easy to learn and capable of creating a wide range of carvings as your experience grows. This will be demonstration only, and initially aimed more for the beginner with more advanced topics at the end as time permits.
__________________________________

Harold Kaltenbach
Harold lives in Westmoreland NY, and has been carving for 25 years. He has been teaching carving techniques for the past 20 years. Harold's favorite type of carving is whimsical houses and buildings which have amazing details.
Class:
How to Create a 3-D Bark House
Harold will create a 3-D bark house from start to finish while sharing the step-by-step process. With his years of experience, he will show different ways to create his work and give some insight to the easiest way to get the job done. This will include creating roof shingles, windows, doorways, siding and landscape.
Harold will cover finishing the house, including adding color to embellish the piece and sealing the completed carving. He will share everything that he knows in the time he has.
Always remember, no two are ever the same and your mind is your only limitation.
__________________________________

Yuri Kobayashi
Yuri Kobayashi is a furniture maker and sculptor based in Camden, ME. Born in Japan, she earned a B.A. in architectural design at Musashino Art University in Tokyo and then trained in woodworking at Shinrin Takumi Juku in Takayama City. She also holds an M.F.A. in furniture design from San Diego State University and for many years taught at the Rhode Island School of Design. Employing her discipline in traditional woodworking, Yuri strives to capture her wonder and emotional nature in objects from abstract sculptures to functional pieces of furniture. She exhibits nationally and has been awarded competitive residencies, grants, and fellowships, including Windgate Artist-in-Residencies at SUNY Purchase, the University of Wisconsin, Madison, and the Arizona State University Art Museum. Kobayashi's work is featured in the Winter 2022 issue of American Craft Magazine. The article also appears online on the American Craft Council website. Her work may be seen at yurikobayashi.com.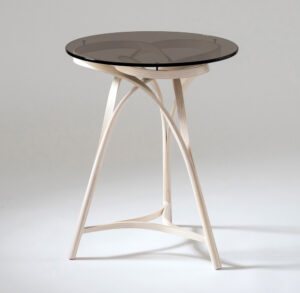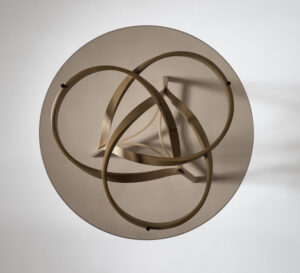 ____________________________________

Jim Larin
Director of Sales and Marketing at Fuji Industrial Spray Equipment LTD.
Jim Larin got his start in technical support in the fine finishing and woodwork department at Fuji Spray. A graduate of University of British Columbia's Centre of Advanced Wood Processing, Jim takes the complexities of spray finishing and translates them into an easy to follow, step-by-step formula for the end-user. In his current role of Director of Sales and Marketing, Jim travels throughout the world to educate and present on a variety of topics related to spray finishing equipment and finishing techniques. His goal: to help sprayers at every level confidently complete any project they may have.
_____________________________________

David G. Powell
David Powell received a BS and MS in aeronautical engineering from Princeton University. During that period he had summer jobs at Boeing and Douglas Aircraft, followed by 15 years with Lockheed, Stanley Aviation and GE Missile & Space Division. Later he spent two years at W.R. Grace heading R & D in building materials. In 1974 he received his MS in Management from MIT as a Sloan Fellow. In 1976 David and his wife Betsy ventured into diamond abrasive tools "on a shoe string." DMT became the leader in micron diamond abrasive hand tools. The Powells sold DMT in 2005 and retired. Dave flunked retirement and developed three more U.S. Patents and tools: Odate Crowning Plate, Universal Sharpening Jig and Glideway.

__________________________________

Ray Puffer
Ray is a woodturner living in the Albany, NY area. He has been an avid woodworker for more than 50 years, and he has produced a broad variety of pieces ranging from custom designed grandfather clocks and furniture, to antique reproductions, guitars and banjos and award winning artistic and functional turnings. His turnings have been featured in American Woodturner magazine. Ray is a member of the Northeast Woodworkers Association, the Adirondack Woodturners Association, and the American Association of Woodturners.
Ray is a Registered Professional Engineer. He served a career as an Army officer, followed by a second career teaching engineering and leading industrial automation research programs at Rensselaer Polytechnic Institute in Troy, NY.
Ray is a frequent demonstrator at regional woodturning clubs, and he teaches woodturning to individuals in his home shop. He exhibits and sells his work in regional art galleries and shows.
Demonstration:
Making a Bowl from a Board
I will present the process from start to finish using a slide show with photos and videos of the entire process, as well as samples of in-process materials. I will present the design process and how to prepare the "board" from which the bowl will be made. The board is then cut and assembled into rings, which are stacked and glued up using the lathe as a precision press. The bowl is then turned to final form, removed from the lathe and finished. I will discuss the materials, tools, and techniques to make an attractive bowl from a simple board.